Turkey. Near Bodrum. These olives were picked from one tree in the garden. Some of the trees in villages are hundreds of years old and treated with so much respect by the locals. It was a humbling to witness so much love for nature.
Great to make bottled olives, which taste so good. Here's one method you can use with confidence.
 The basic method is to cut about 3 or 4 shallow grooves in each olive and place them in glass jars which contains salt water. A by-product is alcohol (olive wine?..) and CO2. So you change out the saline solution every day or two and this will speed up the process for you. Put some plastic mesh on top of the olives in the jar to keep the top ones submerged – or use olive oil in the top inch or so.
It may take up to 10 days to remove the bitterness. 
Test like Monika does in the movie below.. lol
 How much salt in the water?
  8% -10% by weight:  … 100 gm salt to 1 liter water or …
Test by placing water in a pot and adding salt whilst stirring. If you place a raw egg in the saline solution – and it just floats, that's about right. lol.
(Had to go and buy eggs – being vegetarian. Gave them to the neighbor later ..  )
 Put a little olive oil on top of the saline solution to seal.
 When the bitterness has gone …..
The jars are filled with layers of lemon and olives and filled up with the extra virgin olive oil. Oh by the way.. About 50% "Extra virgin" olive oil on the market in good old USA does not meet the grade. So it's "virgin"? lol. On the good old computer thing.. There's 2 companies out in CA that took flying colors. Apparently there's quite a lot of sour/bitter tasting "extra virgin" olive oil out there. So crack it in the shop and take a little sip (only a  little else they will get you for spoiling the specified volume on the bottle?) 
You can start eating them within a few weeks.. 
 Anybody out there in the States that can sell me a few pounds (even Kg) of olives, please contact me through the blog. I know the administrator.   🙂
 We preserved 25 kg  of olives just from the garden. At about 14 euro's a kg.. nice one.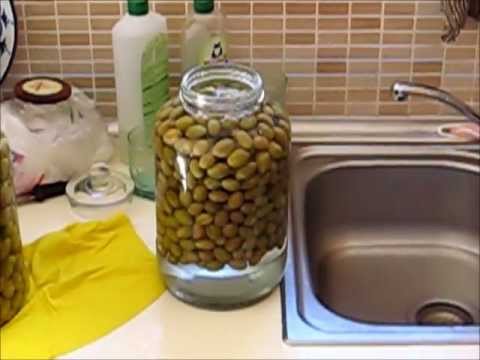 Topping up jars filled with olives/lemon.
Thanks for sharing Monika.
And thanks for showing us how you put the olive you tasted back into the jar.. lol.  Waste not want not.  🙂
Monika teaches yoga. She has extensive experience in the area of simple great cooking and some of the recipes will be sourced from her table!  See Resources.
Share and Enjoy